The European Gateway partners participated in the 7th Transnational meeting during Las Fallas festivity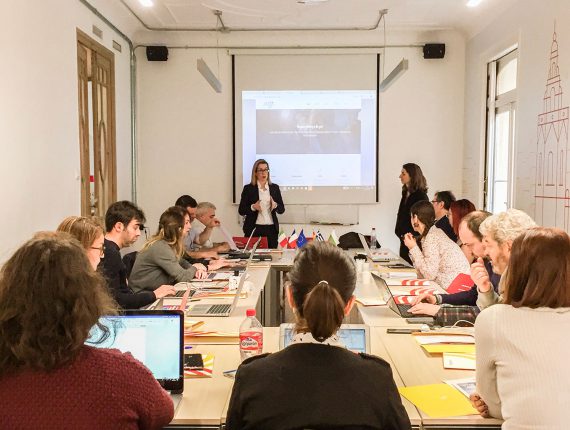 ESMOVIA, partner in the 3 years project "The European Gateway", had the pleasure to host the 7th Transnational Meeting of KA2 Erasmus project during a very special period of the year for the city of Valencia called "Las Fallas".
After a worm welcoming by the director of ESMOVIA, the partners could explain their work done from the last meeting in Bologna until now.
A lot of important topics were discussed by the partners as the project will finish this year in August.
Time was spent to see and check the development of the website of the project and the last updates. Partners also worked on the labellisation criteria for the companies choosing the more important ones and discussed the evaluation criteria of the project.
In the last part of the meeting deadlines have been set and financial issues have been cleared among the partners.
Between all these hard sessions of work, ESMOVIA organized also some moments in which partners could get informed about others KA2 projects or discover the Valencian tradition.
The participants were invited by ESMOVIA to assist to the local event of presentation of the Digital Wood Artisan project in which ESMOVIA is partner.
During the transnational meeting ESMOVIA organized also leisure and cultural moments for the participants of the project. In these two days (6th and 7th of March 2019) they enjoyed the city and its main event "Las Fallas" during the mascletà, a special firework organized at 2 PM in the city hall square. ESMOVIA planned also a special and typical Valencian lunch with paella valenciana and vegetables that the participants appreciated very much.
For the latest news on the KA2 projects please visit the ESMOVIA website !