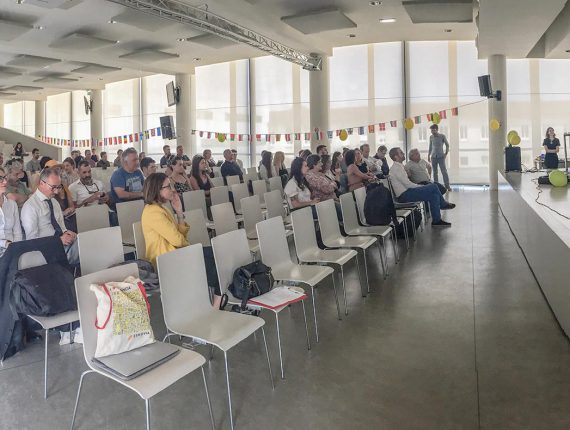 4 staff members from ESMOVIA were in Bordeaux, France from the 3rd until the 6th attending the 8th transnational meeting and the final conference of the project.
After 3 years of intensive work on the tools of the project the partners could present the work done during the final conference in Bordeaux.
The conference, hosted by the French partner CFA Gustave Eiffel, was organized on the 4th afternoon and important guests from the Educational sector attended. French National Agency participated in the event, as well as regional representatives of the Nouvelle-Aquitaine region and of the Regional Council.
The coordinator of the project Clémentine Saves Julien from FRMFR presented the agenda of the debates, the webpage contents and the community page where companies, learners and mobility managers can register for free and share their mobility experience.
Partners of the project had an active role during all the conference and lead the 4 debates of the conference:
Learning mobility and openness: make mobility possible for disadvantage publics or companies employees
Learning mobility and transfer of practices: make the learner more active in its mobility experience and responsible for the transfer of professional techniques between two countries
Learning mobility and involvement of the stakeholders: involving more the sending and hosting organizations in the professional exchanges and in each learner's project.
ESMOVIA participated in this debate presenting its every day work to improve the mobility's quality as well as the toolkit for hosting organizations available by clicking on the link. Debate on the difficulties of the companies while starting a mobility experience was raised by the companies attending the event as well as by some of learners that already experiences an international mobility.
The companies in the event appreciated the toolkit for companies as easy and simple to understand and to use and helpful to prepare themselves better for a successful mobility experience.
Learning mobility and quality support: inclusion of different publics of mobility
This last topic had a very high participation from the public in the room creating a really democratic and opened space to debate on the topic.
The last 2 days in Bordeaux were dedicated to do the final check of the website content, evaluate the project and establish the distribution of the last tasks before the ending of the project.
The experience ended with a very interesting visit to the MFR La Force were the partners of the project could meet the director Christian Manrique that showed us all the facilities and the functioning of a MFR – Maison familiale rurale.
ESMOVIA would like to thank the coordinator FRMFR for organizing the meetings, CFA Gustave Eiffel for hosting the final conference, the MFR La Force for the pleasant visit as well as all the partners of the project and the guests that participated in the conference!
Curious to know more about this wonderful project? Have a look at toolkits we prepared for you and share your international mobility experience in the Community area!