RMT Erasmus+: the renewal of transnational mobility, a new opportunity for people looking to enter the labour market and for businesses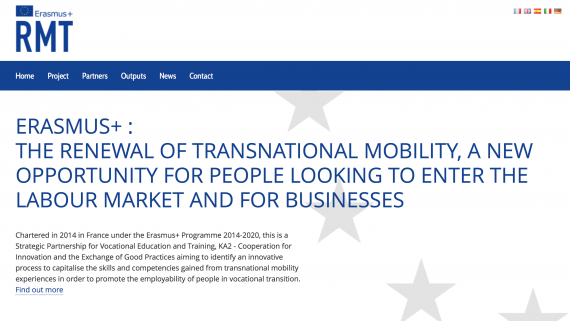 Number of project
2014-1-FR01-KA200-008757
Support programme
Erasmus+ KA2 Strategic Partnership for VET
Description
Erasmus+ RMT is a project born from the experiences that come from the implementation and management of mobility projects by members of the partnership over many years in a framework of national and regional and European funding to support and enhance the employability of people looking to enter or get back into the labour market.
Developed over a two year period, one of the project's major objectives is the finalisation of a "methodological toolkit for transnational mobility", both complementary to European tools for the accreditation of transnational internship experiences and innovative thanks to its methodological basis.
Partnership
Project outcomes
The project lists the European practices and tools developed in recent years concerning transnational mobility. Secondly, the project researches the views of European companies about the added value of benefits and skills acquired by participants in an international context. It is also foreseen a methodological toolkit, developed from French contributions based on careers guidance and both comparative research projects conducted in Germany, Spain, Italy, France and the United Kingdom on the current practice of mobility operators and businesses in supporting transnational vocational mobility.
Our role
ESMOVIA is in charge of researching the Spanish good practices in mobility, as well as conducting interviews and questionnaires with Spanish companies to check the impact of the mobility experiences while hiring.
Project web
Tags
#Mobility #Entrepreneurship #Youth #Employability