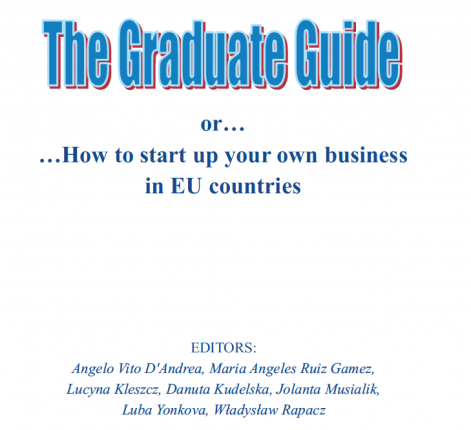 Number of project
2008-1-PL1-LEO04-00819
Support programme
Leonardo da Vinci Partnerships
Description
The Partner Project "WORK WITHOUT BARRIERS" emerges from the thoughts about the necessity of connecting vocational education with the job market needs and the importance of preparing the students for undertaking their first economic activity in a proper way. The aim of the project is to show our students the best ways of obtaining enough knowledge to pass all types of examinations certifying their professional qualifications (knowledge of work law, tax law and legal regulations in terms of their own working activity) on the one hand, and on the other, to demonstrate how they can use their knowledge effectively in running their own businesses.
Partnership
Zespol Szkol Technicznych I Licealnych w Sosnowcu, Poland – Leader
ESMOVIA, Spain – Partner
Bulgaria Training, Bulgaria – Partner
Sistema Turismo, Italy – Partner
Project outcomes
The final product of the project is "The Graduate Guide", in which we compare Polish and European job markets in terms of legal regulations connected with starting and running business activities in Poland and the partner countries. The results of the project can be used by young people undertaking their first job as well as unemployed people who are looking for a job.
Our role
ESMOVIA, as partner in the project, is in charge of conducting a research on the Spanish labour market and to show different steps to open a company. Moreover, ESMOVIA contributes to the Graduate Guide with translations and detailed content.
Project web
www.europeansharedtreasure.eu/detail.php?id_project_base=2008-1-PL1-LEO04-00819
Tags
#Youth #Entrepreneurship #Work