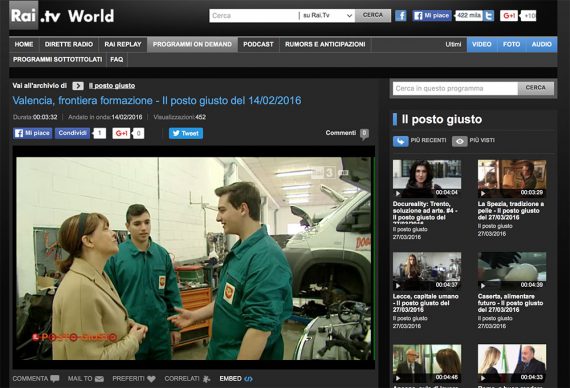 Italian TV programme "Il Posto Giusto" of RAI3 public channel has visited Valencia and ESMOVIA to show a normal day in the life of a group of Erasmus+ VET students.
The TV programme, in collaboration with the Ministry of Education and Erasmus+ Italian National Agency has selected a group of Italian students doing their internship programme in Valencia with ESMOVIA in Mechanic sector. TV crew has followed our participants since the very early morning while they have breakfast with their Spanish host family, then using local transports to reach the company and finally at the company for a training day. Participants have shared their initial fears but also expressed the uniqueness of this experience. At the end of the day, students have hold a monitoring meeting in ESMOVIA office with their Italian tutor and their ESMOVIA tutor.
It is a pleasure that public TV gives notoriety to these kind of experiences showing Erasmus+ programme as a reality to VET students from all over Europe.
The video of the TV piece can be watched here: